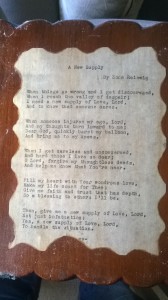 Hanging in my in-laws' house is an aged wooden plaque. It has always caught my eye for it contains a simple, poignant poem written by my mother-in-law's namesake; her aunt Zona. The poem is a sweet reminder of the Christian legacy that exists in Doug's family and now in my children.  I want them to know and be grateful for this great tradition they have been blessed to be born into.
A New Supply
by Zona Reiswig (my children's great-great aunt)
When things go wrong and I get discouraged,
When I reach the valley of despair;
I need a new supply of Love, Lord,
And I know that someone cares.
When someone injures my ego, Lord,
And my thoughts turn inward to me;
Dear God, quickly burst my balloon,
And bring me to my knees.
When I get careless and unconcerned,
And hurt those I love so dear;
O Lord, forgive my thoughtless deeds,
And help me know that You're near.
Fill my heart with Your wondrous love,
Make my life count for Thee;
Give me faith and trust that has depth,
So a blessing to others I'll be. 
Then, give me a new supply of Love, Lord,
Not just infatuation;
Yes, a new supply of Love, Lord,
To handle the situation. ♥
Aunt Zona met her Lord in 2011, just 3 months short of her 100th birthday.