On new year's day, Doug's family drove in from San Antonio to celebrate a late Christmas with us. We missed Uncle Ben, Aunt Rene, and the girls for sure. I was completely overwhelmed with the thoughtfulness of the gifts and the sacrifice of time put into some of them. It was a blessed visit.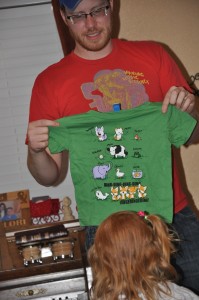 A shirt to commemorate one of Lucy's favorite jams.  What DOES the fox say?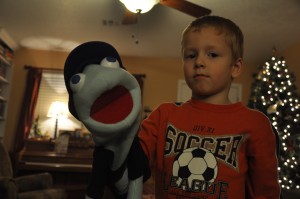 Doug's brother, Todd, made his nephew and nieces puppets for Christmas. Made them. As in designed, selected materials, and then pieced them together on a sewing machine.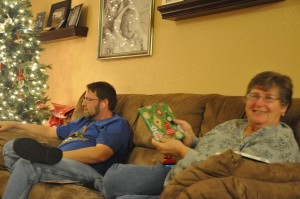 Todd and my sweet mother-in-law, Zona. I didn't get any pictures of Papa because he was too busy taking pictures for me. He's creative too.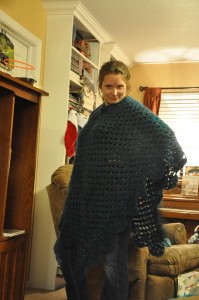 Yeah. So Zona MADE this. As in spent hours and hours just to make something beautiful for me. I wear it essentially every night when Doug and I watch our shows after the kids are asleep. WAY better than a Snuggie.
Apparently, Zona and Rene think I should make things too because they loaded me up with thread, sewing tools, material, and a pattern. I then stole borrowed my other sister-in-law's sewing machine to practice with because she moved to the Middle East and there's nothing she can do about it.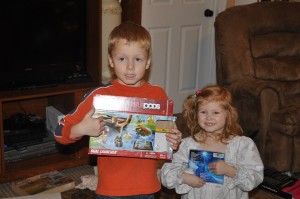 The kids picked out their own gifts with a gift card from Aunt Sharon and Uncle Charlie.  Jack chose an Angry Birds game, and Lucy naturally chose the Frozen soundtrack like every other little girl in America.
Doug's parents donated their hotel points and watched the kids on the 3rd so we could celebrate our anniversary. Appropriately, we attended a wedding that evening.
Me: should I chicken wing?
Doug: what's a chicken wing?
Me: its a dumb pose that will make me look skinnier.
Doug: no. You can't improve upon perfection.
True love right there.