Jack,
Mommy and Daddy are so proud of how hard you have worked this school year. You not only exceeded our expectations academically, but the patience you showed your little sister (and Mommy some most days) exemplified a maturity beyond your five years. For your display, as most projects go in this household, mommy had the idea and your daddy implemented it.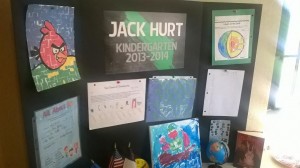 The night began with dinner at Chick-Fil-A, where your daddy was saddened by the transformation of his beloved worship songs into restaurant ambient background elevator music.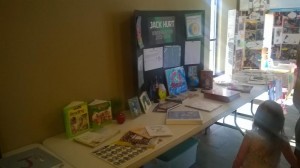 Here is your table at Christian Heritage Academy. I still cannot believe how much we accomplished this year!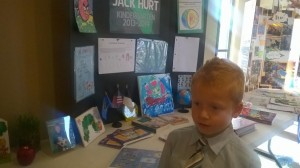 There's my handsome Kindergarten graduate!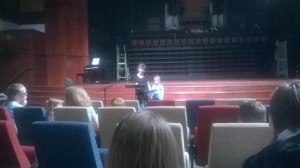 During the student showcase, you were so brave and did so well in front of everyone. You recited the entire first Chapter of the book of James. This year, you have worked so diligently on learning each phrase and we have had so many meaningful conversations about Christian living as you pondered the meaning of each verse.  I hope and pray you will always hide His words in your heart. It is your weapon against the enemy, the lamp to your feet, and the light to your path.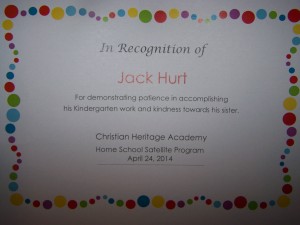 This is the certificate our sweet Mrs. Buckhalter awarded to you-for demonstrating patience in accomplishing your Kindergarten work and kindness towards your sister.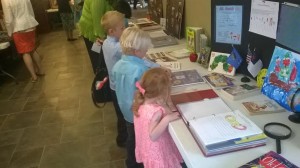 After the showcase, you were so eager to show your work to your friends and discuss what you had learned. As always, your little sister was very interested in what you were doing. You two are quite the pair.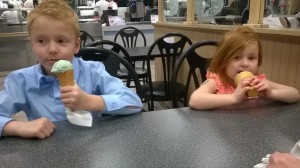 We celebrated the evening with ice cream, as our family often does. Although we are loyal Blue Bellers, its OK to settle for Braum's once in awhile.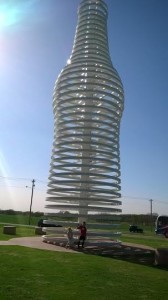 And the following weekend, you played your best ever in your last soccer game of the Spring season and scored TWO goals. We celebrated with a trip to Pop's on Route 66.
Jack, no matter how great your accomplishments may be, wether in character, academia, or athletics, remember where your worth comes from. It comes not from what you've achieved or even by what you haven't achieved. It doesn't just matter what you do, it matters whose you are. You are ours. And most importantly, you are His. We love you and are so proud of you, little man.