We are moving to Sioux Falls, South Dakota. A place I didn't even know existed a couple of months ago. We're moving north after I told Doug I wasn't moving anywhere cold and just assumed we'd end up back where we started in Texas.  Doug actually misunderstood the "SD" on the job posting and told me it was in San Diego. After a few rounds of phone conversations, interviews, seeking counsel, and prayer, we found ourselves on a plane during our Thanksgiving break to SD (South Dakota, not San Diego).  This trip was exploratory to visit the church and the community and observe the weekend worship services.

This was our welcome sign at the airport.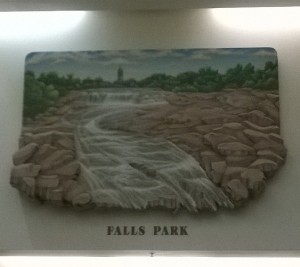 Sioux Falls has actual falls!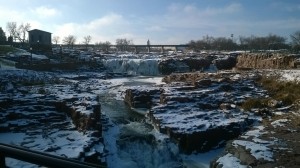 And we got to see them! They were frozen.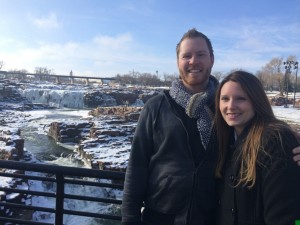 Our first picture in our new place.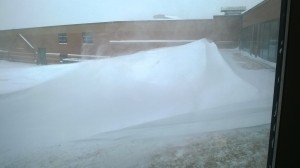 Doug went by himself last month to actually lead the weekend services. Between the Saturday night service and the Sunday morning service, SF was hit with 8 inches of snow. Doug thought it was important I see this snowdrift.
I watched all three services via live streaming back in Oklahoma. All three. Because I'm a very supportive wife like that.
We were both welcomed back so Doug could lead again and the church could conduct an official vote. On Feb. 22nd Doug accepted the position of Pastor of Worship Arts at Central Baptist Church. Doug read his resignation letter last Sunday and it was my first time to hear it along with everyone else. I cried. It's all so happy and sad at the same time. It sums up my heart and thoughts on this next step and I couldn't add or improve upon it so I am posting it here:
Dear friends and family of Immanuel Baptist Church,
It has been an honor to serve here at Immanuel as the Associate Minister of Media and Worship.
I have had an amazing opportunity placed before me to be the main worship pastor at a large church in South Dakota. After several interviews and visits, as well as many hours of prayer and consideration, Lori and I have decided to accept the position of Pastor of Worship Arts at Central Baptist Church in Sioux Falls, South Dakota.
Our time here has been one of forging, sharpening, and sometimes even breaking. This has been our church home since Lori and I have been married, over eleven years and now with two children. Immanuel has given me an opportunity to grow as a Christian, husband, father, teacher and musician. Significantly, Immanuel was also key in helping me realize God's call on my life to be a pastor and worship leader.
From playing bass in the Living Christmas Tree on Main Street, to leading the ninethirty service for over five years, from being a college student to teaching college students, from young married to father of two, God has been using this place, this church, this family, to make me more like Christ. That is the highest compliment that I, that anyone, can give.
My family covets your prayers as we embark on an adventure to the high plains of the Midwest. And I know what you're thinking, and yes, it is very cold. But there is a great church there doing great ministry in a growing community and I fit their needs as a worship leader and pastor.
I cannot communicate to you how dear you are to our family. You will always be precious to us, close to our hearts and we will treasure the memories of our time together. Thank you and may Christ fill you with all wisdom and knowledge for His name's sake.
In Christ,
Doug, Lori, Jack and Lucy Hurt
I happened upon this article online. I'm hopefully optimistic that it's all true. Especially numbers 14 and 18.
21 Things You Need to Know About Sioux Falls.