WARNING: If you are planning on throwing a Frozen themed birthday party in the near future: be ready to make a lot of stuff by hand. As of right now, all retail outlets and most online stores are sold out of almost every Frozen party item you can imagine. I couldn't find banners, plates, favors, cake decor, etc., etc. And the items that were in stock were ridiculously priced. I sure am glad my own prince charming was the hero of the day by supplying his own originally created Frozen supplies. Please don't sue us, Disney. Its not our fault you have an inventory problem.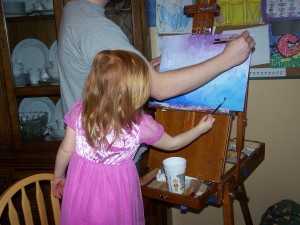 I couldn't find a birthday banner for the party, so Doug found some unused canvas and made a sign. You cannot have paint out around Lucy unless you are OK with her helping.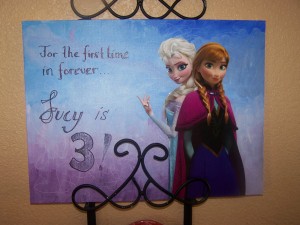 For the first time in forever…Lucy is 3!
We have a family tradition of having Doug make the kid's birthday cakes. He does an awesome job and it gives him a creative outlet for that day. I think he gets better every year. My involvement in the cake process is the concept and the baking. The assembly and the decorating is all on him.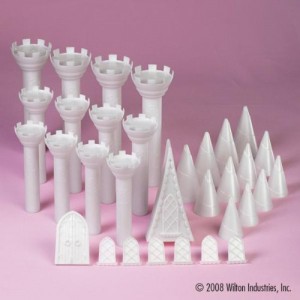 I found this kit for half off and baked a couple of layer cakes…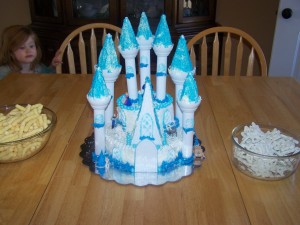 … And Doug made Elsa's ice palace.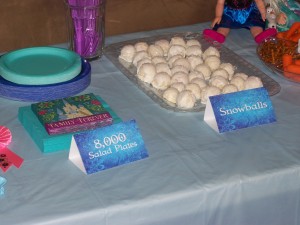 Who knew we had 8,000 salad plates?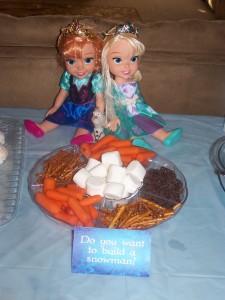 Do you want to build a snowman?
Doug even designed labels for the water bottles. I think he should plan parties on the side.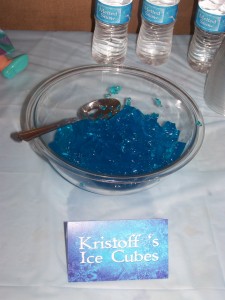 Believe it or not, this was the first time I have ever made Jello and I realized my deprived children had never tasted it before. Jack is not into weird textures, but he bravely took a big bite and declared it to be "soggy, but good."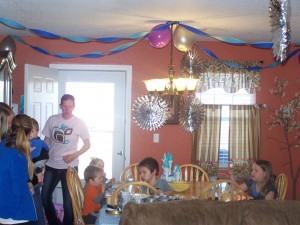 I was so happy the weather was nice enough to allow the kids to play outside. It has been a rough winter in Oklahoma, although not as bad as in other parts of the country. This was the forecast the week of her birthday, hence why we postponed having a party: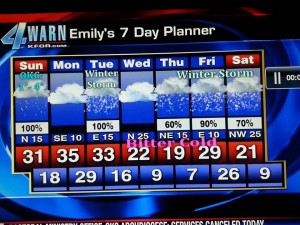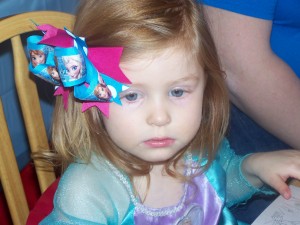 A friend made this awesome bow. Lucy is starting to poop out.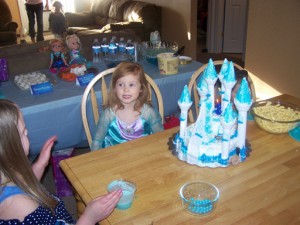 Singing "Happy Birthday." Lucy sang the whole song too. To herself.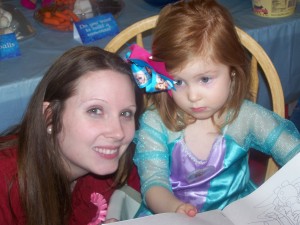 There is a reason we both look so tired: that morning we had a Valentine's party with our homeschool group, then the kids had a short nap before Lucy's party. Directly after the birthday party, our small group met that evening. And then the next day was Valentine's Day and we spent a restful day at home until that evening when Lucy came down with the stomach bug all the kids have been sharing.  We are still recovering from it all.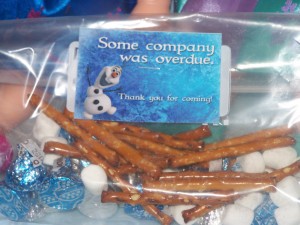 Some company was overdue. Thank you for coming!