Doug is an avid camper. He and Jack have already gone camping, but we had yet to all go as a family. Doug was really itching to use his Father's Day gift (a tent) and, according to him, it was completely unacceptable for it to still be sitting in the original box unopened. So two weeks ago, we loaded up our gear and headed to Roman Nose State Park in Watonga.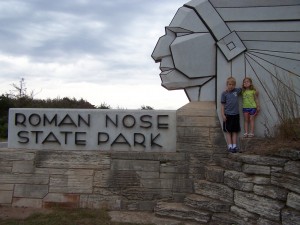 Upon arrival, we just had to take a picture in front of Henry Roman Nose.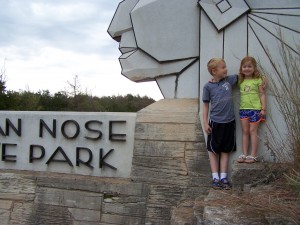 They were so excited. Probably because Daddy was so excited.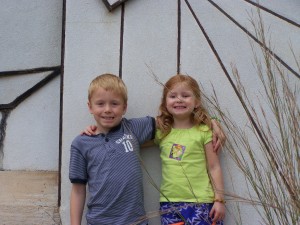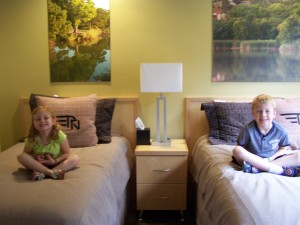 This was "camping" the first night.  I just wasn't ready to rough it for two nights in a row with small children.  We stayed at the Roman Nose Lodge.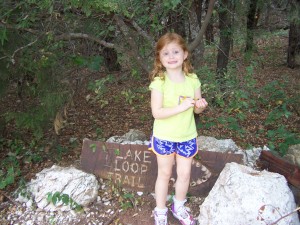 We took a gorgeous hike around the lake. Here is Lucy at the Lake Loop trailhead.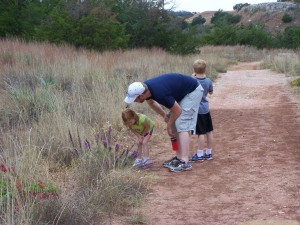 Daddy knows everything and is really good at answering all the many questions.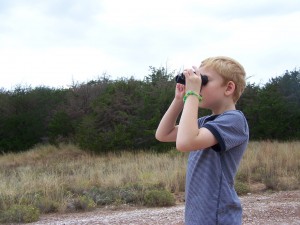 Jack thoughtfully had brought his binoculars and wanted to stop and look at everything.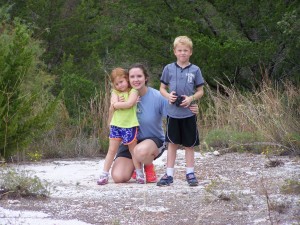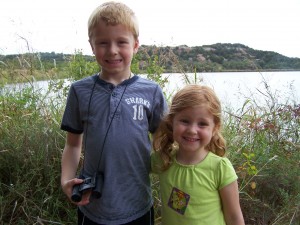 Happy campers.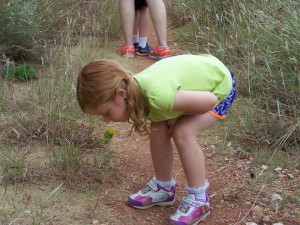 Stopping to smell the flowers/weeds.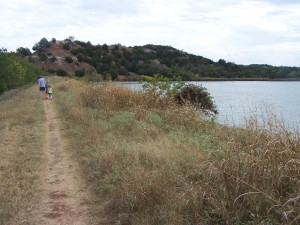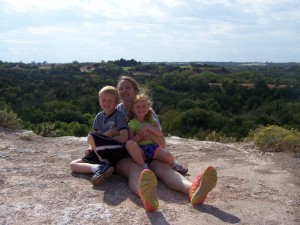 We made it to Inspiration Point. It was inspiring.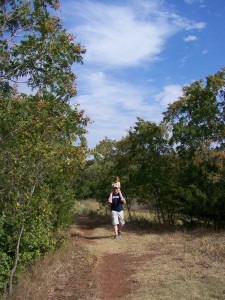 The hike proved too long for her little legs and she insisted on being carried back the remaining 1.5 miles.
After the hike, it was time to swim.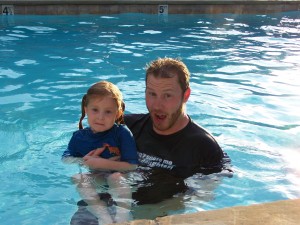 It was the coldest swimming pool I've ever been in. Her face says it all.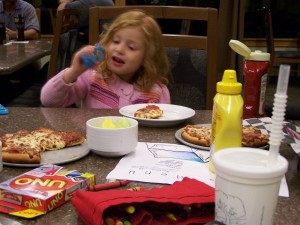 Dinner at The Roman Nose Lodge Restaurant.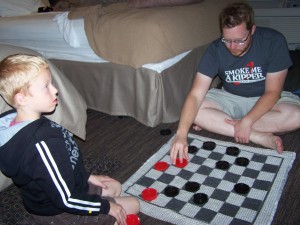 Checkers and watching football. Jack won.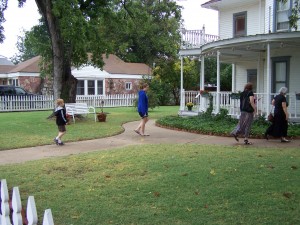 Overall, we had a great visit at Roman Nose and highly recommend a stay. At the lodge, I was looking at photographs hanging in the hallway and noticed one of the T.B Ferguson Home, also in Watonga. I told Doug I would like  to drive by and just look at it. Well, as we drove by, we noticed people entering the home and discovered that the home was open for a free guided tour that day.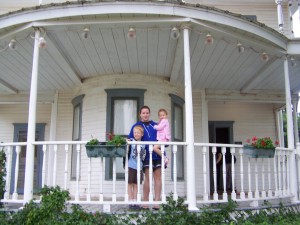 I want this porch.
Upon entering we were asked if we would like to participate in a cheese making demonstration in the kitchen. Um….who says no to free cheese? Coincidentally, we were visiting Watonga during the annual cheese and wine festival. We were offered cheese curds, creme fraiche, and other items made with raw cow's milk. Lucy had seconds and thirds of everything. She has an adventurous palate.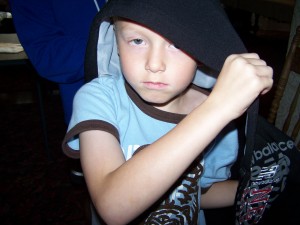 Jack, on the other hand, hid under his hood when offered anything. He just couldn't get past the look of the raw milk.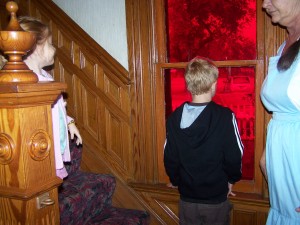 Then we took the tour. Jack was fascinated with the red glass window.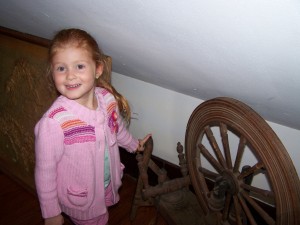 We found an old spinning wheel in the attic. Of course, the princess had to prick her finger on the spindle.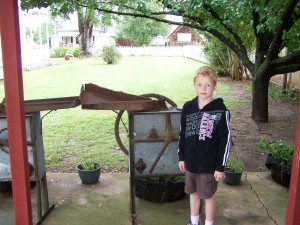 Jack is standing in front of an antique John Deere corn husker.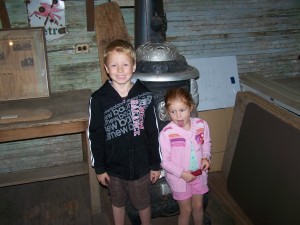 I was trying to get a picture of this really cool stove, but all I got was a picture of some cute kids.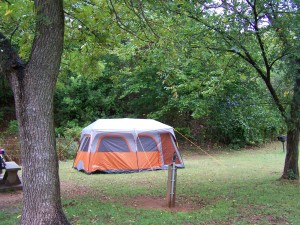 From Watonga, we headed to Red Rock Canyon State Park in Hinton. We set up camp and the tent was finally in use.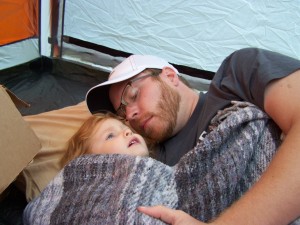 It was way colder than the forecast indicated. Lucy wanted to snuggle and tell stories.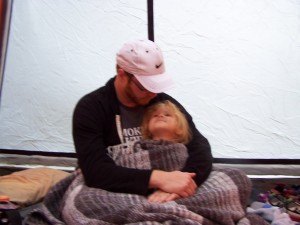 These two.
Biking before the storm hit.  Doug is notorious for camping only when it rains. He camped during a tornado once too.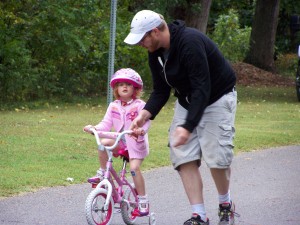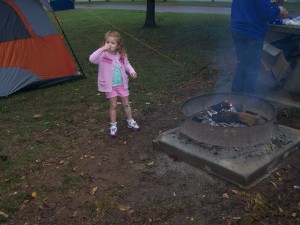 I caught her sneaking marshmallows before dinner.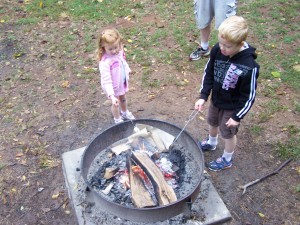 The best part of camping: s'mores.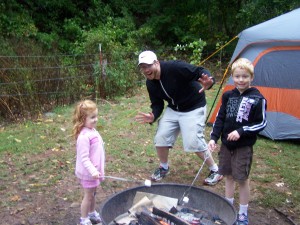 The kids slept like logs that night even though it rained sporadically and the wind was howling. Doug and I did not sleep well, but still savored the quality family time. Hopefully, this camping trip was the first of many.